IV Therapy Education – "IV Certification"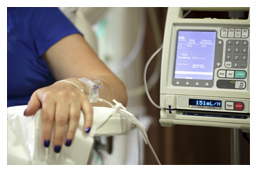 Program available online! Work at your pace…when it is most convenient for you!
Our IV Therapy Education Program (quite often referred to as IV Certification) is designed to provide all Nurses and Post-Graduate Nursing Students with a basic knowledge of IV therapy practice.
The online program includes a video presentation given by Kay Coulter, CRNI, VA-BC; a video of a live peripheral IV catheter insertion demonstration and videos of 2 live implanted venous port access (and de-access) demonstrations; a downloadable IV Therapy Education workbook (100+ pages); and a post test following each chapter.

We partner with several groups to offer our online content along with a HANDS-ON IV SKILLS LAB component in the following geographic locations:
Content Will Include:
Current Standards of Practice
Venous Access Device Review (includes 4-hours of central line education)
Venipuncture Techniques
I.V. Medication Administration & Fluid Management
A Review of Nutritional Solutions
Management of Difficult Insertions
Legal Aspects Related to I.V. Therapy
Vascular Access Protocols
Depending on the requirements of your State, it may be acceptable for you to complete an ONLINE ONLY course and then arrange for skills practice/validation with a qualified clinical preceptor at your place of employment. We offer a 28-hour IV Therapy Education program for those nurses whose State Board of Nursing does not require a specific number of hours or hands-on practice to be included in the course curriculum.
Purchase Online Only Course
NOTE: The practice of I.V. Therapy must be performed according to an individual's State scope of practice for their discipline and/or level of licensure. It is the responsibility of each participant to maintain his or her level of proficiency on an annual basis.